How did I get here?
My journey into woodworking has taken a somewhat circuitous route...
After receiving a degree in computer engineering from Cornell University, I headed for Los Angeles to look for work in the newly emerging field of computer animation. While waiting for that work to materialize, I took a job working for a small set design/construction company.While working at this new job, I was reminded of how much I enjoyed working with my hands (in high school I had worked a number of set construction crews.) I also did a good deal of thinking about my future and decided that I really didn't want to spend the rest of my life sitting in front of a computer screen.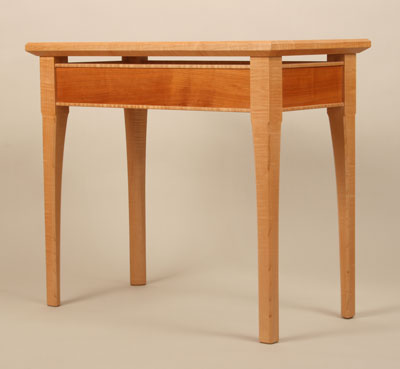 Soon after that, I set up a small furniture construction studio in a rented garage with a good friend from Cornell. The two of us built a number of interesting (and some crazy) items. Since we were essentially self-taught we learned a good deal as we plugged away on our various projects. The most important thing that we learned, however, was that we really didn't know what we were doing! At about this time I decided that Los Angeles really wasn't for me and I decided to head back east. I found a well-renowned furniture school in Easthampton, MA. I applied and got in.
During that year, I learned an enormous amount about all aspects of the design and construction of furniture. We were taught how to tune up, sharpen and use hand tools; joinery techniques, veneering, wood properties and how it moves, finishing techniques and more.
After graduating from the program, I moved to our current Weston home and set up a small studio in our garage. After several years of working in that space, it became apparent that I would need much more room and we began the process of deisgning and building a barn-like structure that would become my workshop. In October of 1998 I moved into the new shop and have been working there ever since.
Other connections:
For several years I have been working in collaboration with l'attitude gallery on Newbury Street in Boston. Besides furniture pursuits, I have been assisting with their art installation work at various local hospitals. My portion of this work involves devising creative solutions to artwork display challenges (pedestals, mounting artwork, framing, etc.)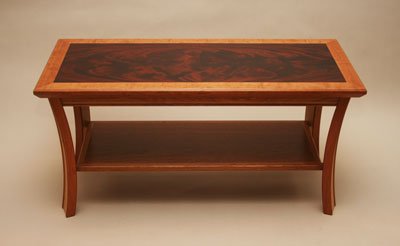 I have been involved with the Weston Arts and Crafts Association for many years and am currently the president, treasurer and webmaster. This local non-profit organization organizes several art shows throught the year and provides art achievement recognition to Weston High School students.
For eight weeks during the summer, I head north and work as director of the sailing department at Camp Kawanhee in Weld, ME. There I run the department, teach campers how to sail and do a lot of boat repairs!